I'm participating in the GUTGAA Blogfest! How fun!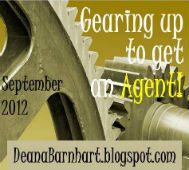 I'm going to answer Deana's questions but first I'll tell you a little about myself:
Hi There!
I'm a 26 year old mother of two living in southern Minnesota. Reading and writing have always been a major part of my life. When I was a child, reading was a way to adventure and escape without leaving the safety of my bedroom. I remember devouring everything I could get my hands on- reading all day. I think The Face on the Milk Carton
by Caroline B. Cooney was the first book that I finished in one day. As I got older, writing came easily and English was by far and away my favorite subject in grade school.
I write because that's who I am. I don't know how to be or do anything else.
It is my release and brings clarity of emotion to my emotion-driven life. I feel everything and writing gives me away to express all that energy so that it doesn't just sit inside me, laying stagnant and unused.
-Where do you write?
I usually sit at my desk and type away on my desktop. But, I do also carry a notebook and will write wherever, whenever inspiration strikes.
-Quick. Go to your writing space, sit down and look to your left. What is the first thing you see?
The Dictionary of Imaginary Places and the The Notebooks of Leonardo Davinci as well as a large window that allows the sun to warm my skin.
-Favorite time to write?
Anytime, really. But, I seem to write the best late at night when I'm slightly fatigued.
-Drink of choice while writing?
Tea. Warm, fragrant tea. Cold water... Occasionally a glass of wine, but that's only if I am feeling particularly vulnerable in what I'm writing. (Liquid courage anyone?)
-When writing , do you listen to music or do you need complete silence?
It really depends. Sometimes the silence is what I need to sort through all of my thoughts but, then music can really help you capture an emotion and keep your train of thought from wandering too far away from your original idea. I do now that I absolutely cannot have the noise from the TV or a movie when I write.
-What was your inspiration for your latest manuscript and where did you find it?
The 2 stories I'm working on currently originated from discussing life with other people. Most of my inspiration comes from life in general- whether it be my own or the life of others. Everyone has a story, it's completely fascinating to me. I will hear about how something happened to "so and so's brother's cousin" and then imagine everything that lead up to that moment and who could have been involved and the outcome. My mind is always going a million miles a minute.
-What's your most valuable writing tip?
Write as much as possible. I have to remind myself that sometimes it's not quality, it's quantity. Yes, you want everything you work on to be brilliant- but you have to not be afraid to write crap. If you don't get into the habit of writing as often as you can, life can be overtaken by other things and you suddenly discover that writing has taken the back burner.