It is a known fact that I love a great Young Adult novel. Why do I love the YA genre? I love the writing, I do. I really do. I love that you can read a story about witches and wizards or even vampires, and it's more about the characters and less about sex. You read something like
Game of Thrones
(which is amazing- I'm not dissing it! NEVER!) and there is tons of sex and vulgarity.
I don't always want tons of sex and vulgarity, oddly enough.
Just because I'm obsessed with Harry Potter and The Hunger Games, just because I love The Chronicles of Narnia and read The Twilight Saga (and used to be a moderator on Twilight's largest Facebook fan page years ago. Don't hate me)- does not mean I'm going to read 50 Shades of Grey by E.L. James. Frankly, I can't see how my appreciation for YA can even go hand in hand with this novel. It's not a YA novel!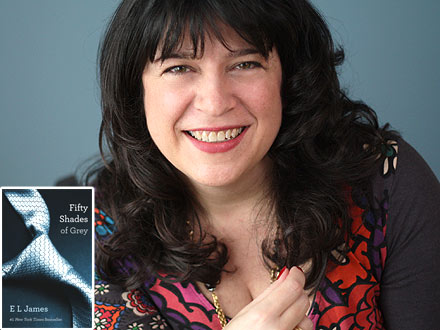 Stupid Author of a Stupid Book
People keep asking me, "Oh my god! Have you read this book yet!?" Like it's expected of me or something. Stop asking me if I've read it! I haven't and I don't plan on it.
I have standards, thank you very much.
I try not to judge things before I try them... I even told my friend
Amanda
that if she took the time and energy to mail the book to me I may attempt to read it so that my hate for the novel can be solidified by the phrase,
"I've read it and it fucking sucks."
But, then I see things like this and I know I'll never read it.
This. This is STUPID.
Why would I read this garbage? I love literature. I love Jane Eyre. I love Revolutionary Road and novels by real writers like Margaret Atwood and George Orwell. I do not read this kind of crap.
50 Shades of Grey was originally Twilight Fan Fiction. The two main characters were originally written as Bella and Edward. Some 40 year old hormonal woman wrote a lusty, perverse fan fiction about Bella and Edward. It's Twilight Porn. It really is.
The Fifty Shades Trilogy was developed from a Twilight fanfiction originally entitled Master of the Universe and published episodically on fanfiction websites under the penname "Snowqueen's Icedragon". The piece featured characters named after Stephenie Meyer's characters in Twilight, Edward Cullen and Bella Swan. After comments concerning the sexual nature of the material, James removed the story from the fanfiction websites and published it on her own website, FiftyShades.com. Later she decided to rewrite Master of the Universe as an original piece with the principal characters renamed Christian Grey and Anastasia Steele and shortly prior to its publication withdrew the fanfiction version from her website.
Also:
The plot traces the relationship between recent college graduate Anastasia Steele and manipulative billionaire Christian Grey. Steele is required by Grey to sign a contract allowing him complete control over her life. As she gets to know him she learns that his sexual tastes involve bondage, domination and sadism, and that childhood abuse left him a deeply damaged individual. In order to be his partner she agrees to experiment with BDSM, but struggles to reconcile who she is (a virgin who has never previously had a boyfriend) with whom Christian wants her to be: his submissive, to-do-with-as-he-pleases partner in his "Red Room of Pain."
What did I just read?
So again- I ask- why would I read this garbage? People- just because I love a *good* YA novel- does not mean I like dirty-Mommy-porn about a pathetic young woman who chooses to let a man control her life.

By that measure — and frankly, pretty much any other measure I can think of, other than the cringe-inducing fiction 14-year-olds tend to submit to literary magazines — this is a pretty dreadful book. Put simply, author E L James — who is now officially invulnerable to criticism because she has more money than God — is not a very good writer.
Her dialogue is stilted, the descriptions of place overwrought, and the characters and plot so predictable that a reader could theoretically skip over several dozen pages of text and still be utterly unsurprised by new developments. (Hey, what do you know? They're having violent sex again. And both appear to feel vaguely conflicted about the violence aspect, but apparently not conflicted enough to actually stop doing it).
And, she's making millions off these stupid books and I'm pissed off about it.
And, yes it's slated to be a motion picture. Obviously.
How does something like this happen? I really just don't understand...